Was yesterday GREAT or what!
I downloaded so many freebies. Thank you to all of the wonderful teachers for sharing their items at TPT.
But WAIT! More Teacher Appreciation FREEBIES.
Have you ever used Reading A-Z.com?
It is a fabulous resource to assist you in differentiating your reading instruction..You will find thousands of materials to teach leveled reading, phonemic awareness, comprehension, fluency, alphabet, and vocabulary. If you are a regular classroom teacher, special education teacher, ESOL teacher, or a reading intervention teacher, you have to check them out. I have used their materials for years and particularly like the leveled readers and the Raz-Kids website. They are having an Open House with a one week trial for all teachers beginning today through May 11!
You can download some freebies everyday.
Just click on the link below and register.
Here is a sample of a book I used today from Reading A-Z for our Ocean Unit. It is a Level L book entitled Deep in the Ocean .The kids loved this non-fiction book about the depths of the ocean. I used this book to reinforce my students glossary skills. I created a printable to go along with the book that you can download below. We also used a diagram from the book to create our own crafty ocean zones complete
with the creatures that live in each zone.
All of us know what it was like starting out and trying to get others to come to our blog. Many of us are still learning, (like me) but we can all help each other out by taking a few minutes to recognize other teachers that are wanting to share and grow professionally by blogging.
Please stop by and visit Tammy Wathen at The Resourceful Apple. I was her second follower. We all need encouragement and support even when we know we are working hard and doing the best we can.
Show Tammy some Teacher Appreciation by visiting and following.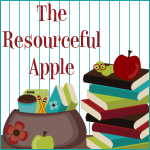 (I am still... learning how to link a picture! I can not get it for the life of me!)
You still have 3 days to sign up for the 100 followers give away. Scroll down and enter.
I left my freebies up for another day at TPT if you did not grab them already. I had a busy day and weekend and have not had time to download anything new. I will try to get another new item and freebie up tonight.
YOU ARE APPRECIATED! THANKS FOR VISITING!